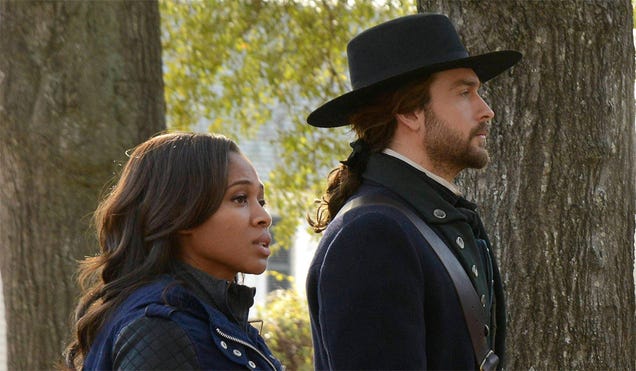 I love to blog about my favorite television shows, one of which, is Sleepy Hollow (although, to be honest, I kind of have a love/hate relationship with this show). I'm able to create this blog thanks to the time and money I save with
4inkjets coupon
SIGLER14
. Thanks to them, I get my errands done fast and easy, and for less money. If you need replacement inkjets, go to
4inkjets
today.
Today I watched the season finale of Sleepy Hollow! This episode was entitled Tempus Fugit.
This episode was actually very good. Abbie is back in Ichabod's timeline and has to deal with convincing him that she is his partner in the future. First off, her jacket might be a tip of the hat. I mean, they didn't have that highly technical wicking material back then. Shoot, they didn't have wicking material when I was in high school. She has a cell phone. She knows things. I honestly don't think it would be that hard to convince him.
I liked the way the show handled slavery. The show is not huge on social commentary, so it would have been weird had it spent too much time on it. I thought the show handled it very well. I do think the show could have had a bit more evil nature to it. I mean, the danger Abbie was in was immense. I think the tone could have been a bit more on the desperate side of things. That's just a small critique.
I did like the fact that Ben Franklin believed her right off the bat. I also adored the fact that Ichabod's past annoyance basically dismissed him so he could talk to Abbie. That was awesome.
My only issue was that the show has leant us to believe that Ichabod was an integral part of the revolution and that he was in on a ton of stuff. Why didn't Abbie mention all of that? Like the tea party, or any of the thousand references that Ichabod has made to how in sync he was with Washington and Jefferson. I know! Mention the stuff about Jefferson. That would be wise.
Anywho, I really did like the scene where Crane had to figure out how to work the cell phone. That was great.
I love evil Katrina. Finally! I would watch that in season 3.
I think we all got the feeling that a season 3 probably won't happen. The group hug at the end pretty much sealed it. However, maybe they learned from this season. Maybe they can right the ship. I would like more character development. I would like more humor from team witness. I would love more Jenny. The actress does a great job in the role.
I think that with all the shows that lose something when they replace their writers, maybe this show can do the opposite. Maybe it can lose some writers to improve the show. That is what I would like to see.
More Tom Mison please.
To learn more about 4inkjets, go to
http://www.4inkjets-coupon-codes.weebly.com
.